BrainPort®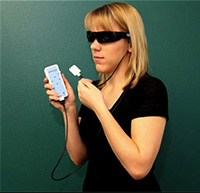 BrainPort® is a device that can compensate for lost eyesight. It can also help to improve your balance after a stroke, brain injury, and a range of vestibular disorders, e.g. Ménière's disease.
BrainPort® enables the blind to 'see' by transforming images from a camera into pulses you can feel on your tongue.1 The intra-oral device, or 'lollipop', contains about 400 electrodes, each corresponding to a set of pixels in a camera. These create a 'picture'. White pixels yield strong electrical signals that some say feel like champagne bubbles, while black pixels give no signal.2 You can learn to interpret the pulses as they change position and intensity until you can 'see' the images the camera is sending. This technology uses the tongue because it is more sensitive and a better electrical conductor than other areas of the body, such as the hands or the back.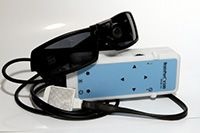 The device can also be used to address problems of balance. Sensors transmit information about the position of your head, the amount of pressure on your feet and other bodily positions and then relay the data to your tongue, where you learn to interpret your position in space and make the adjustments you need to stand straight, or to walk without fear of falling.
Developed by Wicab Inc., the BrainPort® is currently undergoing clinical trails. A researcher from the University of Wisconsin, Jack Sherman PhD, describes the experience of a patient with traumatic brain injury:
'"The patient reported that using the BrainPort® helped not only with balance, but other areas in which he had deficits, including sensation, tremor and mental clarity," says Sherman. "More importantly, the BrainPort® gave him hope."'3
Aviva Cohen is the author and CEO of Neuro Hero