Constraint-induced Aphasia Therapy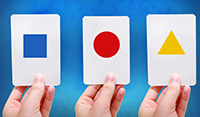 Constraint-induced Aphasia Therapy (CIAT) is an intensive form of speech therapy used to treat aphasia. It derives from constraint-induced movement therapy (CIMT). When constraint-induced therapy is applied to movement, the participant has to wear a constraint, such as a mitt or sling, on his or her good limb. This forces use of the damaged limb. In constraint-induced aphasia therapy, participants are not allowed to use the verbal crutches they may have developed, such as drawing pictures or pointing. CIAT is based on three principles:
'In speech therapy, constraint means avoiding the use of compensatory strategies such as gesturing, drawing, writing, etc. Forced use means communicating by talking, and massed practice means 2-4 hours of speech therapy a day.1
In short, the patient is not allowed to take the easy way out.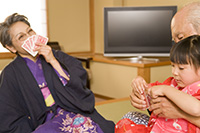 There is very little in traditional medicine that can help chronic aphasia and sufferers are often advised to use coping strategies. However, by employing compensation strategies, we tend to use healthy brain functions and risk reducing stimulation opportunities for the impaired regions, which can lead to a negative cycle of decreased use resulting in reduced spoken language recovery. This process is often called 'learned non-use'.2 In 2008, a study into constraint-induced aphasia therapy found that it was possible for an aphasic person to improve his or her communication:
'Whereas classical wisdom had been that aphasia cannot be significantly improved at a chronic stage, we here review evidence that one type of intensive language-action therapy (CILAT) – constraint-induced aphasia therapy – led to significant improvement of language performance in patients with chronic aphasia. …
Conclusions: We conclude that intensive language action therapy is an efficient tool for improving language functions even at chronic stages of aphasia. Therapy studies using this technique can open new perspectives for research into the plasticity of human language circuits.'3
By forcing patients to find the words, the therapist helps them to build 'brain maps', enabling them to connect words with their meanings. For example, some studies have found that an action word like 'run' activates the same area of the brain as physically running.4 In other words, hearing the word 'run' lights up the same area of the brain as the activity of running. Similarly,
'Words related to different parts of the body such as lick, pick, and kick activated those brain parts that usually control the actions indicated by the words' meaning. Leg motor areas were activated by words such as "kick", arm and hand areas were activated by words like "pick"…'5
Typically, constraint-induced aphasia therapy involves small groups of people with aphasia working together on language exercises and 'games'.6 During this time they must speak. Participants are not allowed to help their communication by pointing, writing, or using any other non-verbal device. The therapist aims to build connections between words, objects and actions. He or she uses a variety of games, such as card games where the player has to name or describe the picture on the card by speaking. CIAT is very intensive. The treatment can take up to six hours a day, five days a week. Participants must also practice continuously at home.
Aviva Cohen is the author and CEO of Neuro Hero