Hyperbaric Oxygen Therapy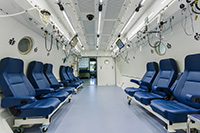 Most of us have heard of a diving chamber (or hyperbaric oxygen chamber) that supplies oxygen to divers under pressure of deep water. This technology can also be used to treat a variety of conditions, including sports injuries and wound healing.1
The hyperbaric oxygen chamber works by increasing the amount of oxygen in your blood. You inhale 100 percent oxygen in a pressurised atmosphere (greater than 1 ATM). The high pressure within the chamber makes it easier for the blood (a liquid) to absorb the oxygen (a gas). As the pressure inside the chamber increases, it brings the oxygen molecules closer together. This enables the red blood cells to carry higher levels of oxygen. Red blood cells are carried in fluid called plasma. Under normal circumstances, plasma does not absorb oxygen. However, in the hyperbaric oxygen chamber, plasma does absorb oxygen. Oxygenated plasma flows through narrow and partially blocked vessels that the large red blood cells cannot enter.
Hyperbaric oxygen (HBO) also multiplies the number of stem cells in the brain by a factor of 8 to 10. There is growing clinical evidence that this treatment is effective for a range of conditions. For example, a study in 2009 concluded: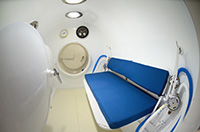 'With the use of modern biological methods and new study designs, HBO has a place in evidence-based treatment of patients with neural tissue damage.' 2
Hyperbaric oxygen therapy is a pain-free treatment. The hyperbaric oxygen chamber may be a single unit, or look like the inside of a small aeroplane. As the attendant increases the pressure in the chamber you will feel your ears pop, much as they do on a plane. You may have to wear an oxygen mask. Treatment time varies but it is usually between 30 and 120 minutes once or twice daily.3 During this time, you can chat, read, or use a portable DVD player. The treatment is followed by a controlled decompression. The number of sessions varies, but it is typically a minimum of ten.
Aviva Cohen is the author and CEO of Neuro Hero