Music Therapy
Music Therapy is based on the understanding that all human beings are able to respond to music, irrespective of disability or injury. Music therapy is an evidence-based profession, designed to help people with a broad range of needs. Music is known to reduce stress, support learning and increase feelings of self-esteem. However, music therapy research has shown that it can also lead to improvements in speech disorders, physical movement, cognition and a variety of psychological issues. According to the American Music Therapy Association,
'Research supports connections between speech and singing, rhythm and motor behaviour, memory for song and memory for academic (functional support) material, and overall ability of preferred music to enhance mood, attention, and behaviour to enable the client to maintain or optimize function.'1
Music therapists often work with speech disorders, such as aphasia and dysarthia. They have identified a range of similarities between singing and speech that include rhythm, pitch and intensity.2 Traditional music therapy has had some success in dealing with speech disorders but there now exists another branch of music therapy that deals specifically with speech disorders, called Melodic Intonation Therapy.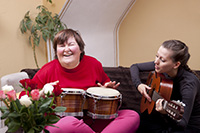 People have always talked about the emotional power of music. Music therapy research shows us how this translates into ways to improve mood and deal with the huge emotional adjustment that many people have to make after a serious accident or illness.3 Baker and Tamplin list some of the issues facing people who are trying to adjust to life with an acquired brain injury. These include loss of function and independence, loss of physical appearance, loss of status, and loss of their role within the family.4 A music therapist can help if communication is impaired, or when feelings are too powerful or complex to express in words. He or she might use techniques such as song writing and improvisation to help clients express their feelings in a safe environment. Doing this can offer catharsis, support and safety. For example, in 2000, researchers showed that music therapy brought about a positive change in mood in 18 patients who had been hospitalised due to acquired brain injury.5
You may also be surprised to know that music therapy can be an effective treatment for motor function disorders and that it can improve cognition. Research has shown that music and listening activities can help to activate specific neural pathways and make people more open to rehabilitation.6 In 2008, a study demonstrated that people suffering from amnesia could remember events they had experienced in the music therapy room with greater frequency than events that had happened outside the room.7 Music therapists claim that whether you are dealing with difficulties in movement or cognition,
'…music can offer structure, stimulation and motivation for exercise routines, and can offer a purposeful and enjoyable activity for specific motor patterns through playing of instruments, which provide both auditory and physical feedback.' 8
During a typical session, the music therapist establishes contact with the client through the shared use of musical sounds. Using a variety of instruments, the therapist provides a personal space where each person can use music to communicate feelings and work with his or her needs within safe boundaries. During a session, the client might improvise (make up) music, or use instruments with the therapist, thereby helping to communicate something about him- or herself using few or no words. The therapist also works psychodynamically, focusing on the underlying meaning of the client's music and the use of space and silence to understand his or her internal world.
Aviva Cohen is the author and CEO of Neuro Hero