Reflexology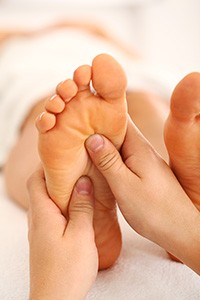 Reflexology is a holistic approach that treats the whole person by applying pressure to specific points on the feet. Practitioners believe that each organ in the body is linked to a particular point on the foot. By massaging the feet, they can tell which organs are out of balance and work to restore harmony. Many hospitals and clinics use reflexology therapy as a complementary treatment for a wide range of disorders, including cancer and brain injury.
There is a growing body of scientific research to support reflexology treatment. In 1996, Dr Wang Liang presented his analysis of 8,096 clinical cases. He assessed 63 disorders, including vertigo and type 2 diabetes, and found 'foot reflexology to be 93.63% effective in treating 63 disorders'. When he assessed the effectiveness of reflexology through this large number of cases, he found it was
'Significantly effective (cure) in 48.68% of all cases. Effective or improvement in 44.95%. No effect in 6.37%.'1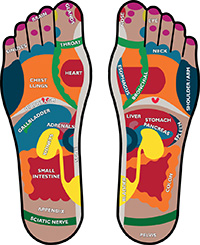 Although Dr Liang's findings are impressive, this is one researcher's interpretation of the evidence. Thereis a good deal of debate about the effectiveness of reflexology.The majority of support comes from practitioners and patients who believe that it confers real benefits.2
The first reflexology treatment typically begins when the practitioner talks to you about your medical history and lifestyle. Then he or she begins a form of foot massage, concentrating on the areas that relate to your medical problems. A reflexology session usually takes around 45 minutes.

Aviva Cohen is the author and CEO of Neuro Hero