Robotics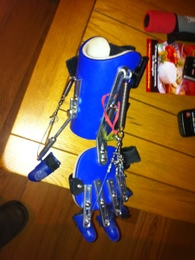 A variety of robotics devices exist, designed to restore movement to paralysed or partially paralysed limbs. They often look like something from a science fiction film but they are becoming more and more common in mainstream rehabilitative measures. They can be used for a wide range of treatments.
They can be used to aid everyday living, e.g. a mother can wear a robotic splint to pick up her children's toys. It is often possible to use these aids after one training session. A typical robotic hand aid has electrodes that are attached to key muscles. It sends low-level electrical impulses to the junctions between the nerves and the muscles, so you can open and close your hand at will.
The Hand-Wrist Assisting Robotic Device, or HOWARD, for example, is like a robotic splint that helps your brain to relearn how to move your hand. HOWARD senses how much progress you have made when trying to grasp an object, then completes the movement for you.1
It is also possible to use robotics as part of rehabilitation therapy. Robotic devices can be as effective as working with a therapist, in some cases even more so.2 There is currently a large scale project in Chicago called the Machines Assisting Recovery from Stroke (MARS)aimed at exploring the options available for robotics to assist in rehabilitation therapy, with a focus on mobility and motor recovery.3
Furthermore, there is a range of robotic leg braces that can generate leg and foot movements, or help to create a more natural walk. For example, Lokomat is a type of harness that supports your body while your legs are moved to simulate walking. It would take two physiotherapists to help a patient perform this exercise. With Lokomat, you can exercise more often and for longer periods.4
Some devices help to stimulate nerve growth and retrain muscles in order to regain natural movement. There is also evidence that some robotic devices can help to minimise a variety of secondary complications associated with paralysis, such as pain, poor blood circulation, and tightness that can lead to a claw-like hand. 
The makers of the NESS H200 hand aid conducted a study of 77 stroke survivors. One of the participants explains:
'Whether the device, or the exercises or spontaneous recovery was responsible, I cannot say for certain. But after 12 weeks of electrotherapy and exercise, my hand remained open instead of becoming clenched. The blood flow in my arm increased, and serious swelling disappeared. In videotaped tests, I did increasingly well at moving blocks and empty cans from one place to another. Now, with exercise only, the hand function has continued to improve.'5
Robotic devices are available to help with a range of activities, including balancing and climbing stairs, e.g. theKineAssist is a 'wheeled device' that supports you from behind as you walk and perform other exercises.6 Several robotic devices have received FDA clearance in the USA, or equivalent approval in their country of origin. It is possible to buy many of these for home use, although they typically cost more than €6,000. We recommend that you consult your physical therapist before you consider this option.
Aviva Cohen is the author and CEO of Neuro Hero